Tasveer is excited to present the 3rd year of the Tasveer Film Fund (TFF), with partial support from Netflix.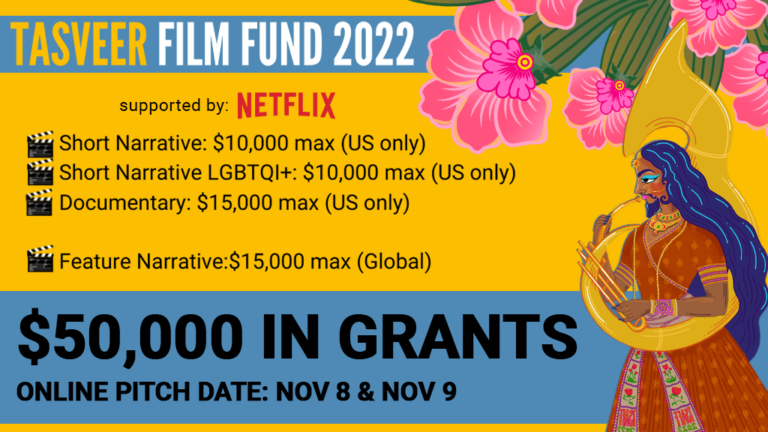 We are excited to announce that Tasveer is more than tripling its Tasveer Film Fund grant in 2022, from $15,000 to $50,000. The Tasveer Film Fund aims to empower South Asian filmmakers to bring their scripts to life with monetary grants, as well as year-long support with resources and mentorship access. We believe that our support can help to take some of the fundraising burden away from filmmakers, while helping to connect them with important resources to get their projects made. These films, that bring necessary representation and social justice issues to light, deserve to be fully resourced and widely seen.
With support from Netflix, TFF will once again offer awards for US-based filmmakers through the Short Film Track, which includes increased grants in the Short Narrative, LGBTQIA+ Short, and Documentary categories.
New in 2022, Tasveer is presenting a Feature Film Track, which will award up to $15,000 to a feature-length narrative. This track is open to submissions from any country.
In 2022, the third year of the Tasveer Film Fund, a total of $50k in funding will be awarded to filmmakers across four categories:
New for 2022, the $15k Narrative Feature Film Fund
The $15k Documentary Fund
The $10k LGBTQIA+ Short Fund
The $10k Short Film Fund
NARRATIVE FEATURE CATEGORY
Winner: HOMES by Hena Ashraf; A woman with severe OCD is forced to examine why a sense of "home" is beyond her control.
Finalists:
DESI STANDARD TIME TRAVEL by Kashif Pasta
SUBURBAN TURBAN by Arun Vir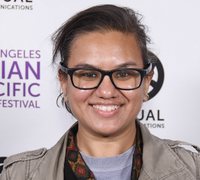 Hena Ashraf is a writer-director who creates character-based multi-layered narratives, showing how truly connected we all are with the specific being universal, focusing primarily on stories about migrants and migrant life, as migration is such a common, while disruptive, experience. Born in London to Bihari Muslim working-class parents from India, she spent her early years in the United Kingdom before im/migrating to America. Hena's work has been supported by the Brooklyn Arts Council, Tribeca Film Institute, the Islamic Scholarship Fund, the Norris Foundation, BAFTA Los Angeles, MPAA, Wasserman, the Adrienne Shelly Foundation, an ISF National Film Grant, Telluride FilmLAB, the Caucus Foundation, and more. Her films have screened at Outfest, Dharamshala, DOC NYC, and dozens of more festivals. Hena has an MFA in Film Directing from UCLA and is based in Los Angeles.
DOCUMENTARY CATEGORY
Winner: CHIRAGU (WING) by Neelu Bhuman; Young Muslim transman Adam Harry dreams of becoming a Commercial Pilot, armed with a scholarship, a growing fanbase and media presence. Will this be enough to help Adam defy bureaucratic discrimination and continue his training to become first transgender Commercial Pilot of Indian origin?
Finalists: 
BOLLYWOOD BERKELEY by Zoe Malhotra
OUR DAUGHTERS by Chitra Jeyaram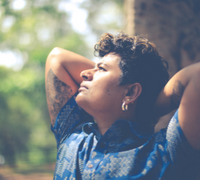 Neelu Bhuman is an independent auteur filmmaker exploring socio-political themes as they play out on an interpersonal level.  Their films playfully explore nuanced viewpoints on race, gender, sexuality, culture, class, and romance. Neelu's first fiction feature film TRANSFINITE (2019) and short films FU377 (2014) and MORE LOVE. LESS PREPACKAGED BULLSHIT (2017) present abstract retellings of the dilemma of reducing identity to finite categories. Their work foregrounds the resilience and resistance of marginalized communities in the face of political and personal duress. TRANSFINITE (2019) was the opening night feature at 2019 San Francisco's Transgender Film Festival and a critics pick at Austin's aGLIFF. Neelu is a 2022 Sundance Uprise grant nominee and their WIP feature doc CHIRAGU (wing) was shortlisted for the 2021 Doc Society New Perspectives Fellowship.
LGBTQIA+ SHORT CATEGORY
Winner: Shams by Saif Jan; When, Mustafa, the Imam of a mosque in rural Florida learns that a young trans man has been praying in the men's section of the mosque, the Imam faces a moral and ethical crisis of faith as he decides if his loyalty is to uphold the established values of his mosque or to protect this trans man's safety and spiritual belonging.
Finalists: 
GETTING THERE by Mehreen Jabbar & Shah Yasir
HOUSE HUMAN by Harsh Agarwal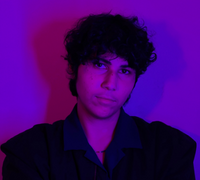 Saif is a queer and trans multiracial muslim filmmaker. They grew up in a Pakistani and Yemeni household in Saudi Arabia, then immigrated to the US a nineteen. Saif is inspired by stories that reimagine new worlds and more intentional ways of being. They are dedicated to collective healing, liberation and creating impactful eco-conscious art.
NARRATIVE SHORT CATEGORY
Winner: BILLO RANI by Angbeen Saleem & Maryam Mir; When Hafsa, a sparkly and impulsive 12-year-old girl, is made aware of her unibrow at Islamic Sunday School in a lesson on "cleanliness", her chatty and aunty-like eyebrows come to life and begin to speak to her.
Finalists:
CASSETTES by Karan Sunil
SUNDROPS by Amitabh Joshi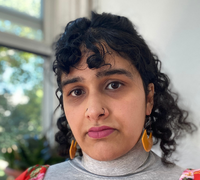 Angbeen Saleem is a Pakistani Muslim artist, filmmaker, poet, and aspiring gardener from Philadelphia, PA. She does communications for North Star Fund, a community foundation that funds grassroots organizing in New York City and the Hudson Valley. Previously, she worked at MTV, the Southern Poverty Law Center, and the Aspen Institute. She loves the way storytelling can create space for learning, joy, and healing.
Her poetry has appeared in Best American Poetry 2021, Blood Orange Review, Pigeon Pages, The Margins, The Slowdown, underblong, and in other timelines of the multiverse. An installation of her poem "black and brown people on shark tank" is on display at Cherry Street Pier in Philadelphia. The most recent short film she co-wrote, Passenger Seat, premiered at the Museum of Moving Image in Queens. She lives in Brooklyn, NY.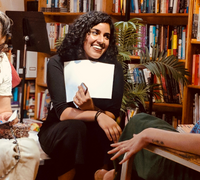 Maryam Mir is a writer/director currently pursuing her MFA in Film Production at NYU Tisch, where she is an Ang Lee Scholar. As a Kashmiri-Canadian born in Germany, raised in Bahrain, with Kenyan ancestry, Maryam has always found inspiration in stories that center the immigrant experience in all its joy, delight and magic.
She is a HEAR US '21 awardee, a UCP Thousand Miles Project Workshop Participant '22 and a Gotham Marcie Bloom Fellow '23. Her previous short film, Birdwatching, was an official selection at the International Film Festival of South Asia (IFFSA'21) and the Asian American International Film Festival (AAIFF44).
Previously, she has been featured in the American Muslim Futures Exhibit curated by the Shangri La Museum of Islamic Art, has completed a Summer Residency in Documentary Filmmaking at the School of Visual Arts and was a 2019 Open City Fellow at the Asian American Writers' Workshop.
All winning teams will also receive a free license for Final Draft 12 script writing software. Additionally, the Feature Film category winners will receive the DaVinci Resolve Studio editing, color correction, visual effects, motion graphics and audio post production software.